Slide 2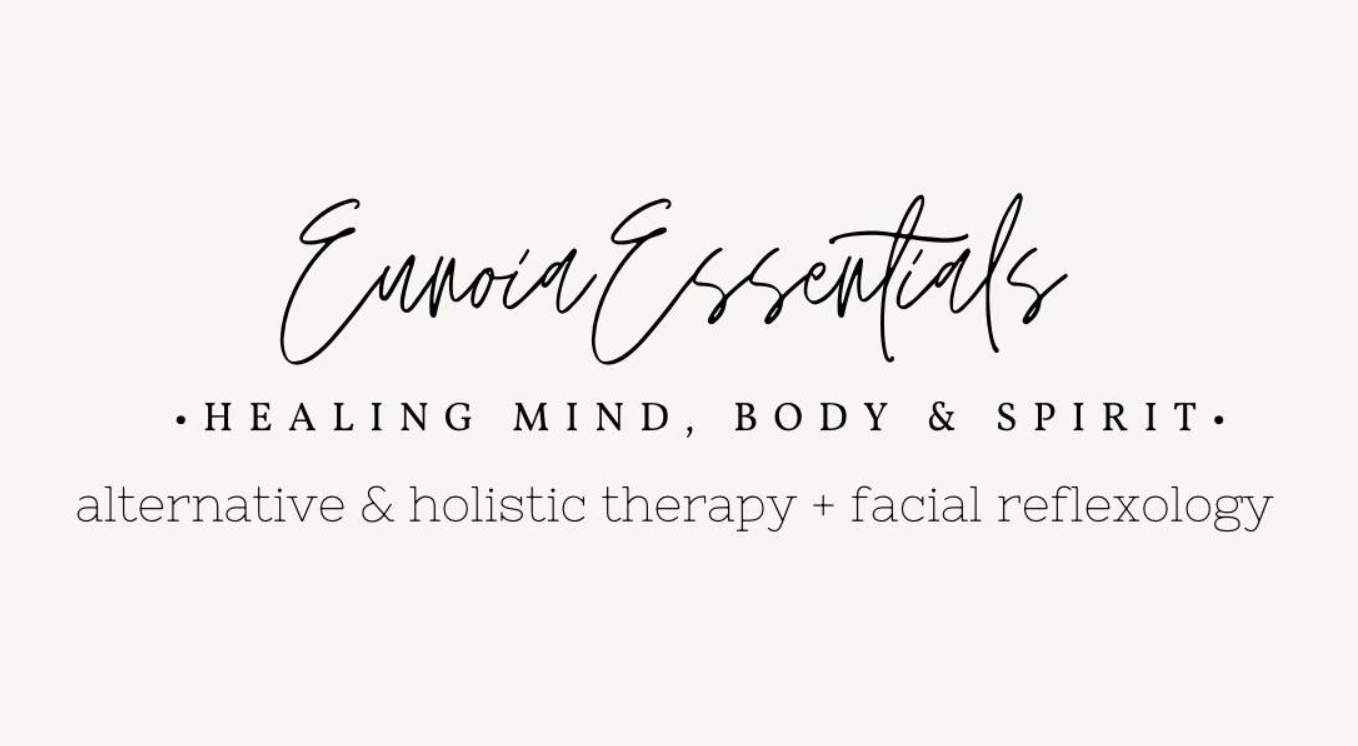 Slide 1
The Eunoia Essentials Set
Made from 100% Authentic Terahertz & Black Obsidian Stone.
Terahertz stone emits far infrared and negative ion energy. Studies demonstrate that far infrared helps promote metabolism, improving blood circulation, modulate sleep, ease pain and fatigue, relieve muscle pain and stiffness, protect against oxidative stress, and relieve inflammation. Meanwhile, negative ions is known to purify and cleanse the air from harmful radiation, pollutants and allergens.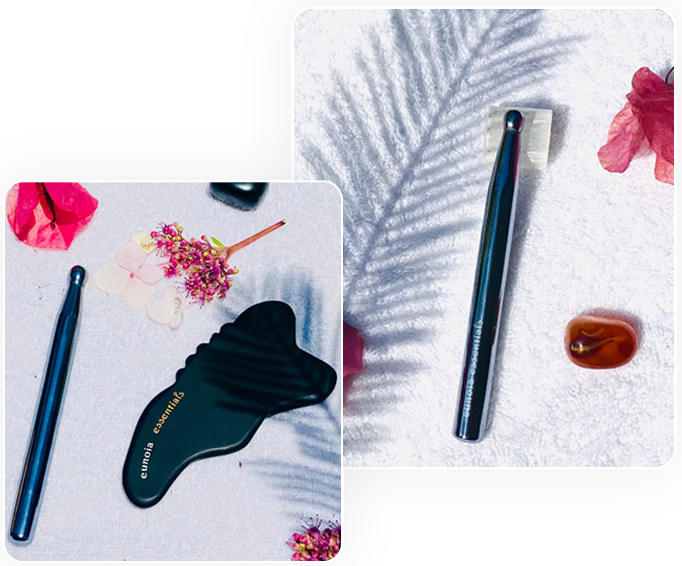 Slide 1
Dark Nephrite Jade Gua Sha + Purifying Wand
Made from 100% authentic Bian Stone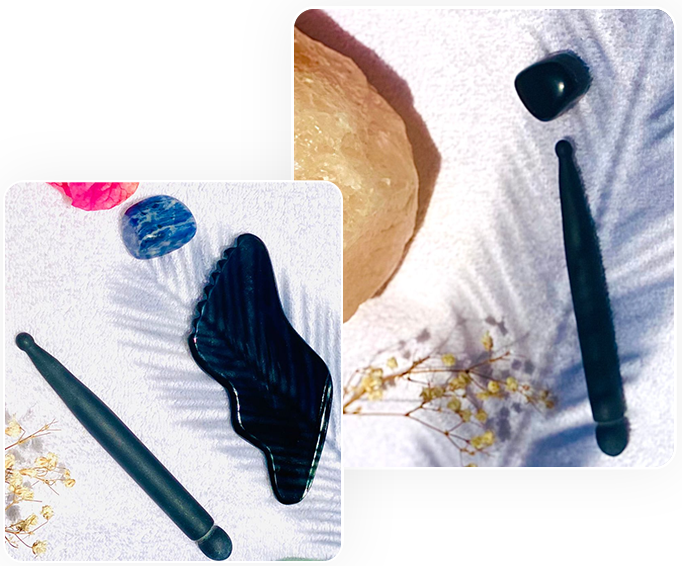 Eunoia Therapeutics + Eunoia Essentials were created and designed with the SOUL purpose of providing alternative, integrative & holistic therapeutic services that seek to treat the individual as a whole and provide the essential tools to empower, facilitate & maintain ones own mental + physical +  spiritual health.
Eunoia Essentials is where Western Psychology meets + Traditional Chinese Medicine + Somatic Healing for a holistic & integrative approach to treating & healing the Self.
Her mission is to provide a Trauma-Informed, educated and empowered healing experience, so that you may  process + understand yourself and your experiences, while igniting & being in control of your own healing.
Discover the art of empowered healing through Eunoia Essentials
At Eunoia Essentials we seek to understand + address the root cause of each symptom, at an energetic, emotional, physical, & spiritual level. Our ultimate goal is to educate + empower each client on their healing journey. We offer a full comprehensive evaluation with package deal classes. This format was created in order to provide consistency + support which are imperative when healing. Throughout our sessions we will answer questions, educate on different healing modalities, process emotions, symptoms + experiences. All while providing a safe & trauma informed healing space. (In person and/or via zoom)
Discover the healing properties + benefits of each tool to know which one is the best fit for you on your empowered healing journey.
Access trainings on different healing protocols that educate + empower you to address a variety of symptoms + ailments.
Integrative Healing Under One Roof
Hi Veronica, I love my wand, I've been practicing with it and it's wonderful, the energy of it is amazing 💫✨ . Thank you so much again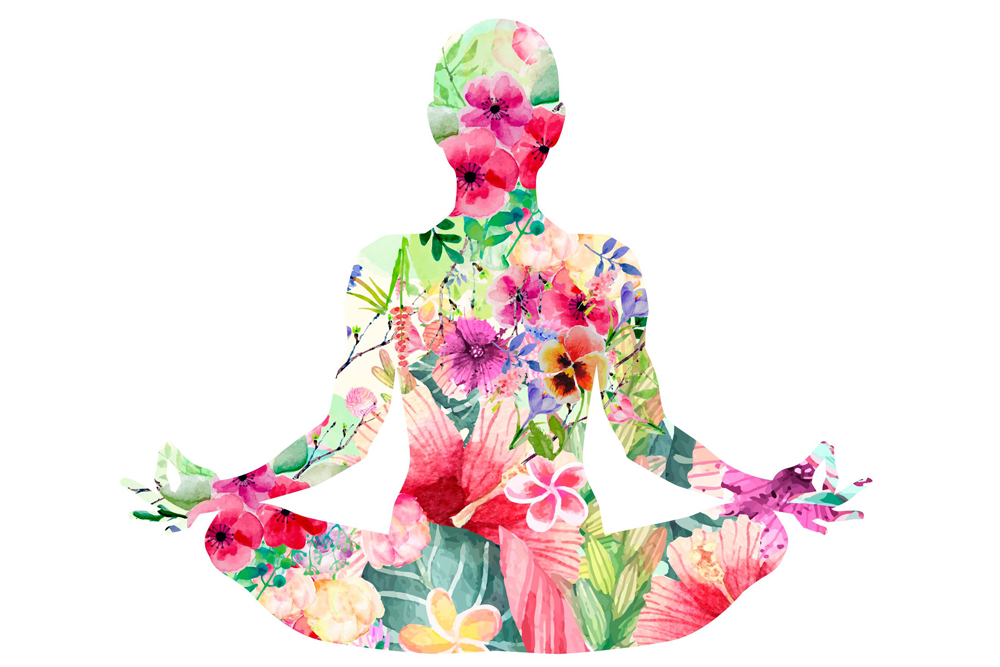 Book your free consultation to discover all we can accomplish together. Please feel free to write 2 or 3 goals and/or areas for improvement.